360 degree safe Overview
The 360 degree safe self review tool is free to use and is intended to help schools review their online safety policy and practice. It provides:
Information that can influence the production or review of online safety policies and develop good practice.
A process for identifying strengths and weaknesses.
Opportunities for commitment and involvement from the whole school.
A continuum for schools to discuss how they might move from a basic level provision for online safety to practice that is aspirational and innovative.
Features & Benefits
Encourage collaborative online use within your school.
Receive immediate feedback and suggested actions to help your progression.
Log sources of evidence, comments and action points within your account.
Easily compile and print a wide range of reports.
Compare and benchmark your responses with other users of the online tool.
An Award Winning Online Tool...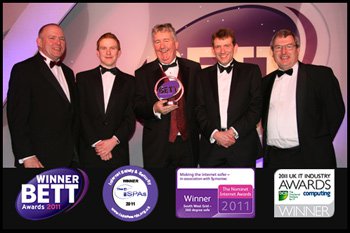 360 degree safe has won a number of national awards, here are a few of the judges comments...
"360 degree safe engages the school community, provides an excellent way for schools to move forward, is free, comprehensive, easy to use and has clearly been developed with users in mind. It provides advice and resources that save time."
BETT Award Winner - Leadership & Management
"360 degree safe is a well-designed, user friendly, online tool for schools to review their online safety provision. It helps them identify strengths / weaknesses & develop an improvement action plan"
Nominet Award Winner - Making the internet safer awards
"An excellent tool that helps empower schools to develop and test their own safety policies and make their own choices on online safety."
ISPA Award Winner
"This BCS award highlights 360 degree safe's best practice, innovation and excellence"
BCS UK IT Award Winner
"360 degree safe is a well-designed, user friendly, online tool for schools to review their online safety provision. It helps them identify strengths / weaknesses & develop an improvement action plan"- Nominet Award Winner - Making the internet safer awards